Our Mission and Values
We're occasionally asked for more details about what we're doing. What does it actually look like to plant a church in a condo community in Toronto? To answer this, it's best to look at what we've been working on in terms of our mission and values before I describe what it looks like.
In recent months, we've been working on clarifying what God has called us to do. The result is that we've narrowed in on a mission statement that is much clearer — and less grandiose — than our original one. Here it is: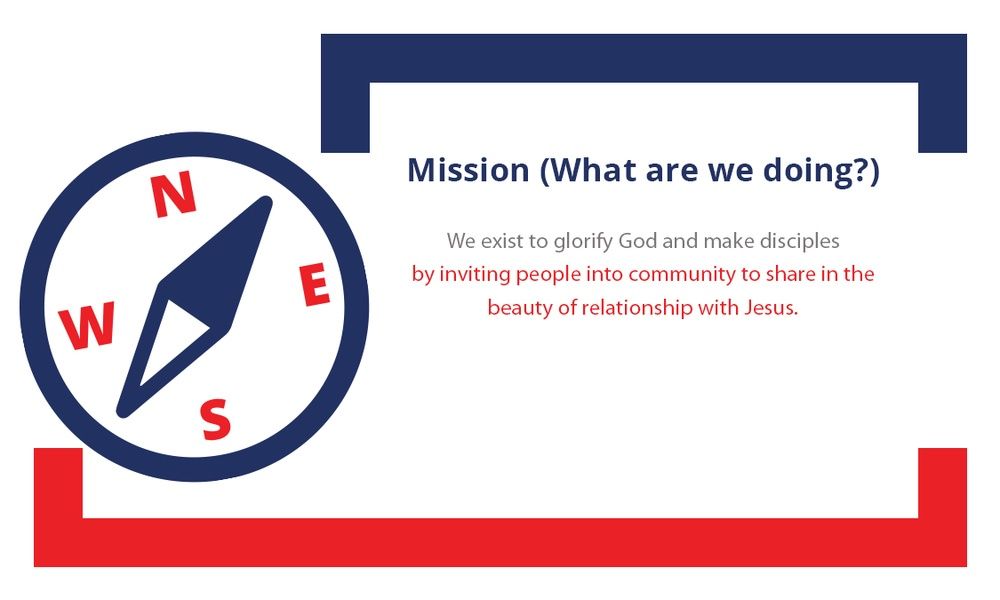 What does this mean?

Our mission answers the question, "What are we doing?" It is our compass. The first part — "We exist to glorify God and make disciples" — is the call of every church. It's true of every church in every place until Jesus returns.

The second part of the statement is unique to us: "by inviting people into community to share in the beauty of relationship with Jesus." We are majoring in building relationships in the community. Our prayerful hope is that people will experience the safety and uniqueness of relationship with people who are serious about following Jesus Christ. As they do so, we will be able to share not only the truth but the beauty of relationship with Jesus.
Our values answer the question, "Why are we doing it?" They motivate us. They are springboards for action. They are not what we do; they characterize everything that we do.
Our values:
Relational — We are all about relationships with people and with God.
Gospel-Centred — The gospel is at the centre of our church and lives.
Dependent — Apart from God, we can do nothing.
Reproducing — Disciples make disciples. Churches plant churches.
Neighbourhood-focused — We are committed to the Liberty Village community.

What Does This Look Like?
A lot of our ministry is building relationships, looking for opportunities to share the beauty of relationship with Jesus Christ.
This month, it's looked like:
a potluck dinner we're holding for the community on November 27th in the evening
organizing a group to hear a lecture on the themes of Handel's Messiah, before taking in the concert at the TSO
many one-on-one relationships with people in the community
participation in community events — board game groups, running groups, art events, social gatherings, and more.
Please pray for us as we continue to invite people into community, ultimately to share in the beauty of relationship with Jesus.
Other News
At our Saturday gatherings, we're working through a series on the Church. We'll be asking people to consider committing to join and become the first members of Liberty Grace Church.
Both Nathan and Darryl continue to speak in various churches. Nathan has been preaching in Woodstock, Ontario for the past few months on Sundays. We would love the opportunity to speak in your church about church planting, and about the ministry of Liberty Grace Church.
Please Keep Praying
O. Hallesby writes in his classic book on prayer, "Helplessness is the real secret and the impelling power of prayer . You should therefore rather try to thank God for the feeling of helplessness which he has given you."
If there is something that we've been learning, it's that we are helpless to plant this church apart from God's enablement. Please keep praying for us. It is crucial for what we are doing.

Thanks for Your Support
Thank you as well for your financial support. We have one month left before year-end. Your help will enable us to continue to devote our energies to ministry in Liberty Village.
It's easy to close an update like this with a brief word of thanks, almost as a formality. We want you to hear this: We are thankful. We say this because we genuinely mean it. Thank you for your support in starting a new church in Liberty Village. We are very grateful.