Start Proclaim
Please arrive at 3:00 and turn on the computer and TVs. The password for the computer welcome screen is 2525.
Open the Proclaim program.
Click on File -> Recent where you should see the date for the current Sunday.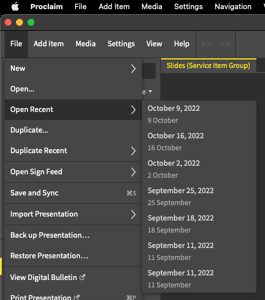 Practice Proclaim
Start the presentation by clicking "On Air" at the top right.

Even when the presentation is "On Air," you can still edit the presentation if needed. Just switch to "Edit" from "Preview" using the slider pictured above.
As the music team practices, follow along. Check the song arrangements and lyrics for spelling, capital letters, and spacing. Once the worship team has finished practicing, check with the worship leader for any changes to the order within the songs (i.e. verse, chorus repeats).
Also, check the rest of the service to be sure there are no mistakes.
Be sure that the Proclaim Pre-Service Loop is running by 3:45.
Run Proclaim and Livestream
Open Ecamm Live.
Important: Check sound levels. Click Windows -> Sound Levels and be sure that the program is receiving sound as below: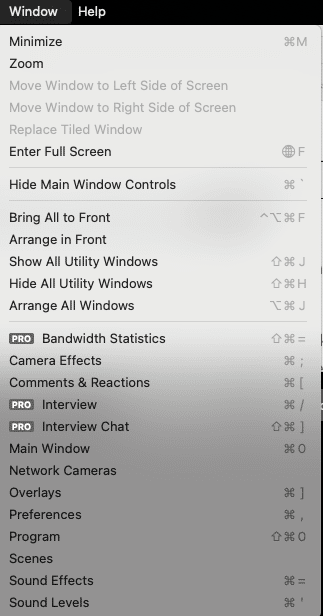 Click on the "Stream to Switchboard" button at the bottom. If you need to log in to Switchboard, the user name is info@libertygrace.ca, and the password is on a laminated page by the computer.

Visit the Switchboard Cloud website. (Use the same login information as above). At 3:59, as soon as the countdown starts on the screen, click "Go Live" on both YouTube and Facebook.

During the service, run the Proclaim slides.
As soon as the service ends, return to Switchboard Cloud and click "Stop Streaming" for both YouTube and Facebook.

Go to Ecamm Live and end the broadcast.