Three Bedrock Convictions
In the process of planting this church, there are three verses that I keep thinking about. These verses help keep me focused on what matters most, and they also keep me on my knees. Here they are:
"These men who have turned the world upside down have come here also" (Acts 17:6). This verse keeps me thinking big. The gospel changes the world upside down. Since the world has been turned upside down by sin, the gospel turns things back to the way they should be. Our goal in planting a church in Liberty Village is to bring the world-changing news of the gospel to the neighbourhood. It's not simply to plant a church; it's to turn the community, even the city, upside down.
"Thus I make it my ambition to preach the gospel, not where Christ has already been named, lest I build on someone else's foundation" (Romans 15:20). We had two criteria for picking a community in which to plant a church. First: we wanted a growing community. Second: we wanted a community where there are currently no churches. We are not starting a church to reach the already-churched. We are entering a community where Christ is not currently named, to tell people who have never heard about the gospel of Jesus Christ.
"And behold, I am with you always, to the end of the age" (Matthew 28:20). I'd be completely overwhelmed apart from this promise. Christ has commissioned us to make disciples. He's also promised us his presence and help. Since planting a church is way beyond my abilities, I keep coming back to Christ's promise of his presence and enablement.
There are lots of other Scriptures I've been thinking about as we plant this church, but these are the three that have been on my mind the most. They form some of our bedrock convictions about what it means to plant a church.
We're Meeting!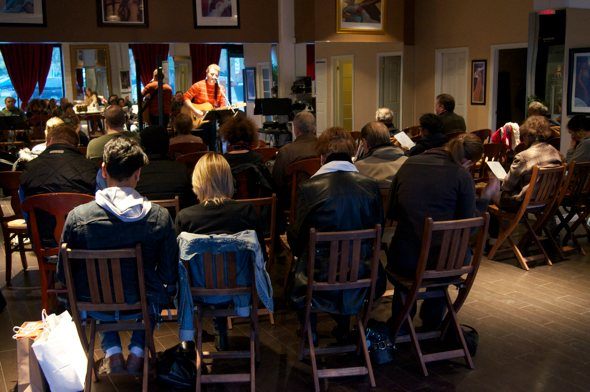 We're now meeting every other week. We've found a great location — danceology, a dance studio right in the heart of Liberty Village. Here are the dates that we have meetings scheduled:
Saturday, November 17 from 6 to 8 p.m.
Saturday, December 1 from 6 to 8 p.m.
Saturday, December 15 from 6 to 8 p.m.
In the New Year, we're hoping to meet weekly. We are praying towards a public launch in the early Spring.
You're welcome to join us! Please pass this information on to anyone you know who may be interested in joining us.
We're Moving!
We've bought a condo in Liberty Village, and we take possession on December 18. We're very excited. The condo has enough room for our family - no easy feat as condos are not generally built for families! We believe it's important for us to be part of that community, and we can't wait to move in.
We've also sold our house. We listed in the middle of the rain that was taking place at the same time that Hurricane Sandy was hitting the east coast. We had multiple offers and sold above asking without conditions in two days. We prayed for a quick and smooth sale, and God did more than we expected. We are so grateful.
Please Partner With Us
Please pray for us. We need people to pray for this church plant, and we would be grateful if you add us to your prayer list and pray for us regularly.
Please consider joining us. We need good people who have a passion to help build a church community from the ground up, and to serve the wider community. Please contact me if you would like to join us, or if you know of anyone who may be interested.
Please partner with us financially. We are especially looking for individuals and families who will contribute monthly. In the life of an urban church plant, every dollar counts. Please prayerfully consider supporting this ministry that will pay eternal dividends.
We're so excited about what God is doing, and we appreciate your interest and support. Please let us know how we can pray for you.