Information Night
Just a reminder of our Information Night this coming Saturday, October 13 at 6:00 PM I'll be sharing about the vision of Liberty Grace Church, and answering any questions you might have. This event is for anyone who is interested in supporting us financially, relationally, or in prayer. It's also for those who are exploring the possibility of joining our church plant.
We're very excited about this event, and I hope you can come.
The location is Danceology, a dance studio in the heart of Liberty Village. There is ample parking on location and directly across the street. It's located on Hanna Avenue just south of Liberty Street in the Liberty Market Building.
Please let us know if your coming by registering here.
Introducing Barry Duguid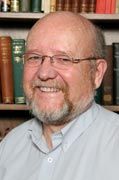 We're very excited that Barry Duguid has agreed to help us in the process of planting Liberty Grace Church. Barry brings a wealth of experience as a pastor, having served at Willowdale Baptist Church, High Park Baptist Church, and Newtonbrook Baptist Church. He currently serves as the Director of FEBToronto (the Toronto Association of the Fellowship Baptists in Toronto). Barry has a strong passion for ministry in Toronto, and has served as a mentor for a number of pastors. We appreciate Barry and his wife Marilyn, and we're grateful for their support and interest.
Speaking
I have the privilege of preaching in a number of churches about Liberty Grace Church. Last Sunday I spoke at First Filipino Baptist Church, Toronto for their 35th Anniversary. A few weeks ago, I spoke at Morningstar Christian Fellowship in Scarborough. Morningstar supported us by taking up a love offering for Liberty Grace. We're thankful for their generous support.
Please pray for me as I preach and share about what we're doing. Here are some upcoming dates:
October 21 - Bluewater Baptist Church, Sarnia
October 28 - Dovercourt Baptist Church, Toronto
November 4 - Calvary Baptist Church, Burlington
November 18 - Faith Baptist Church, Oakville
Other Prayer Requests
Please pray:
for the Launch Team as we begin to meet regularly
for my family as we look for a place to meet in Liberty Village
that God will sharpen our vision and give us an evangelistic focus
We Need Your Help
Do you know anyone who may be interested in what we're doing? Please share this email with them.
Please commit to praying for us. We need prayer support!
Do you live in Toronto? Please consider joining us.
Please consider financially supporting us. Every dollar counts. We are especially looking for people who will contribute monthly over the next 2-3 years for:
a can of pop a day ($30 a month)
a cup of coffee a day ($50 a month)
a sandwich a day ($100 a month)
or any amount you choose
Thanks for your support and your prayers!