I hope you're having a great summer. I have some great news I want to share about Liberty Grace Church. Please continue to pray for us as we work toward starting this church in Liberty Village, Toronto.
This Saturday: Introductory Brunch
This coming Saturday, August 25 is an exciting milestone. We're holding our first introductory brunch at 11 a.m. This is designed for people who are interested in what we're doing, particulary for people who are considering joining our Launch Community. It's going to be casual. It's mainly a chance for us to hang out and to get to know each other.
Please pray for this! We'd love to have you join us if you're interested. It's at the Acadamey of Spherical Arts in Liberty Village (1 Snooker Street). Just drop us a line if you would like to attend.
Summer Recap
It's been a busy summer. I've been able to meet with many potential partners to share what we're doing and to invite them to get involved. It's also been great to get to know the community and to continue to build relationships there.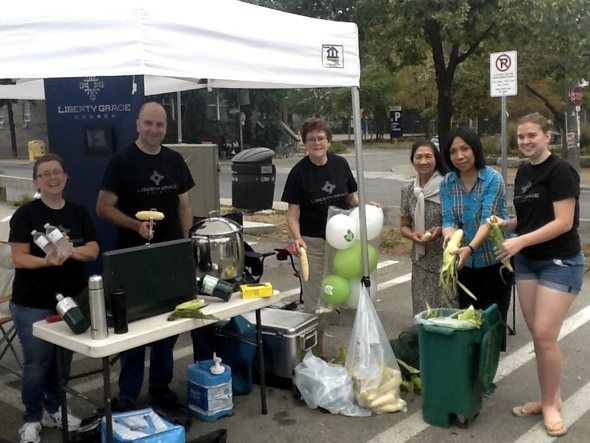 One of the highlights of the summer was our Corn Roast at the Farmers' Market. We met some great people and started to build some good relationships in the community. We're hoping to do something like this again.
In other news, we now have our charitable status. We're very thankful to have this in place. It will help us greatly as we move forward.
Postcard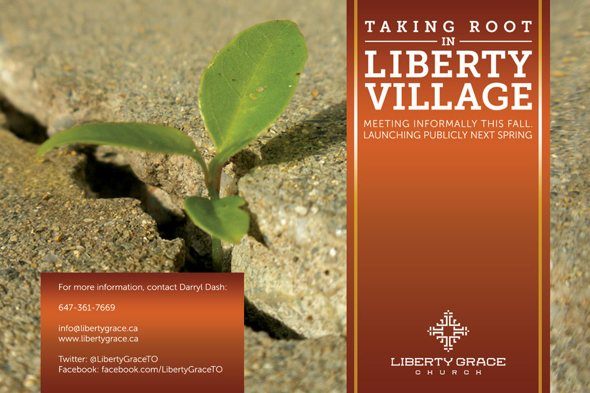 2,000 copies of this postcard are being distributed to condomiums in the community in the next few weeks. Please pray that it will be noticed by the right people, and that it will lead to us making more connections in the community.
Get Involved
We're very encouraged. God has been at work, and the more we get to know the community and the people in it, the more excited we get. We invite you to get involved as well.
Know someone who might be interested? Let them know, or pass their name on to us so that we can be in touch with them.
Please pray for us. This church will not succeed if God does not empower us. Please lift us up in prayer as we take these next critical steps in reaching out in the community.
Please give. We are especially looking for people who are able to support Liberty Grace Church monthly for $50 or more a month over the next 2-3 years.
Please consider joining us. There's nothing like being part of a church plant. It will stretch you and grow you in ways you can't imagine.
You can also keep track of what we're doing through our website, Facebook page, and through Twitter.
Keep in touch, and thanks for your part in what we're doing!