This post is crossposted at my blog, DashHouse.com.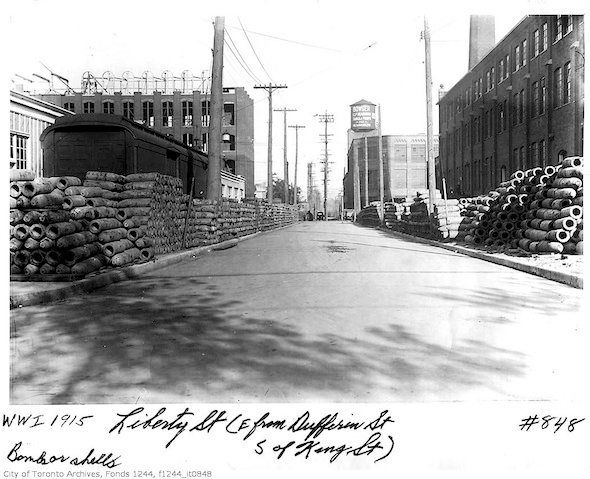 As you may know, we're in the process of planting a church in Liberty Village. I'm having a blast learning about the community.
I remember the day years ago that I discovered the Runnymede community of Toronto. I instantly fell in love with that community, and I've never looked back. I love places like Runnymede and Roncesvalles, but I really love Liberty Village. That's a good thing when you're planting a church.
There's a great set of historical photos at BlogTO. It will give you a sense of what the community used to look like, and what it's becoming today. I'm hoping that some local historian will write a book about the area someday.
Here's some of what I'm learning about Liberty Village:
Liberty Village has a long history as a home to industry and prisons. Many of the old buildings still stand, such as the Toronto Carpet Factory, which really is a beautiful building.
The residential side of Liberty Village (the east side) is the former home of John Inglis Co., Ltd.. They manufactured flour mills, pumping engines, weaponry, and eventually home appliances.
Liberty Village was once the site of Toronto Central Prison and the Andrew Mercer Reformatory for Women. These were not nice places. The prison chapel of the Central prison still stands. When prisoners were freed, they were supposedly released onto Liberty Street.
Liberty Village is creative centre within Toronto. It's home to a lot of creative and technological business.
Liberty Village is a very new residential area. It's also Toronto's fastest growing community, having grown 143% since 2006. Thousands more slated to move in.
You can live, work, and shop in Liberty Village. You don't need a car, but you can rent one by the hour if you do. It's also close to downtown.
There's a very active Business Improvement Association and a Residents' Association.
People who live in Liberty Village don't seem to be into flashy stuff. They do care about the environment, exercise, and health.
It's a young community. There's a smattering of ages. You need some experience to work in the area, and you need some money to live there, which means that you're probably in your late 20s or 30s before you live there. There are some younger and older people as well.
I'm told that there are more dogs than children in Liberty Village.
The community does have some challenges. It needs another east/west road, and a pedestrian bridge over the rail lines. The condos are small and not ideal for families. It's also thin on some infrastructure such as parks, schools, cultural and community space. It could also use a church. We're working on it.
Somebody told me this year that you should never plant a church in a community you don't love. I love Liberty Village, and can't wait to see what God does in this community.